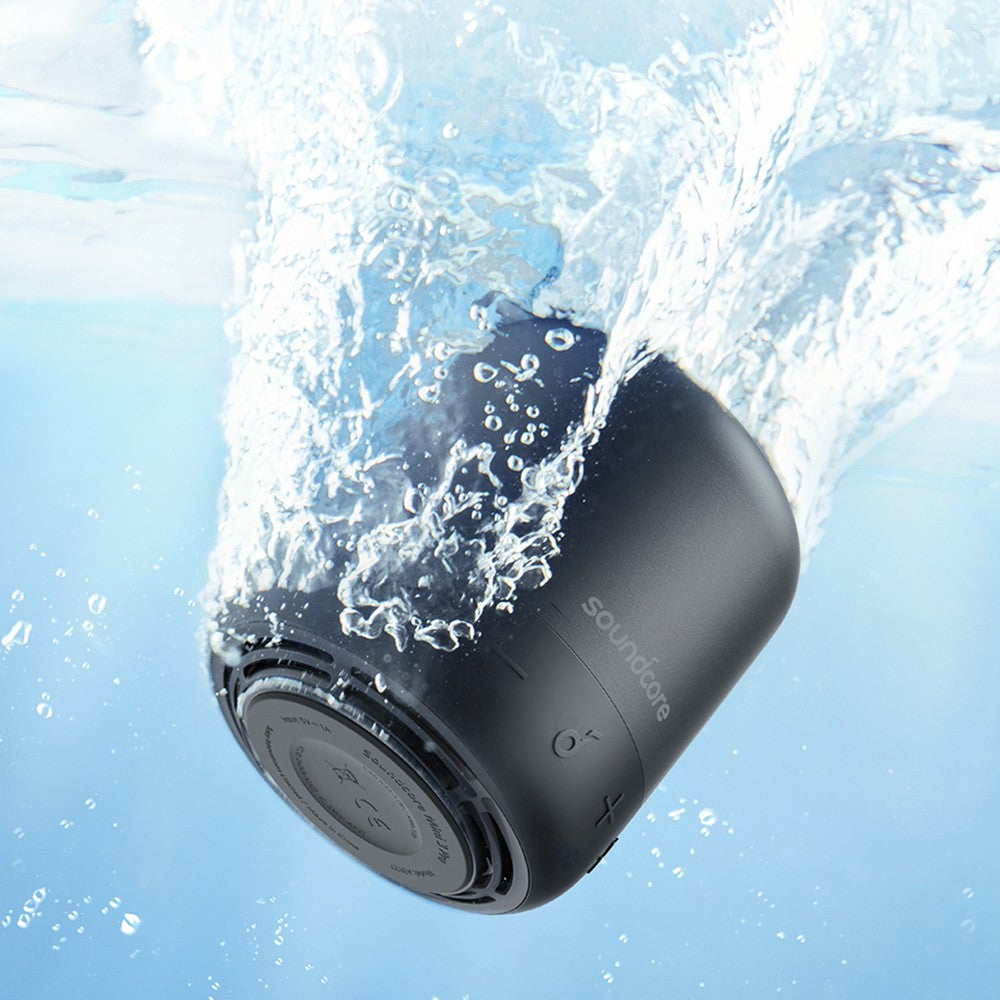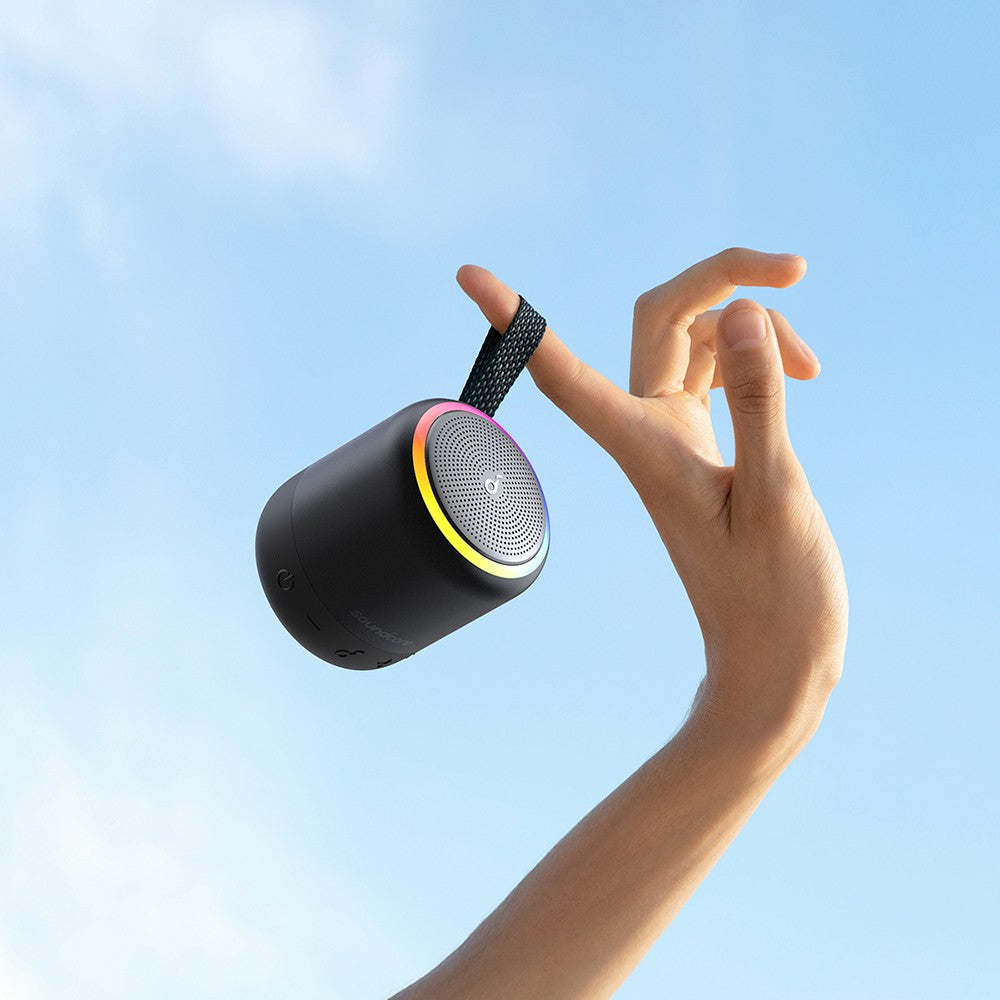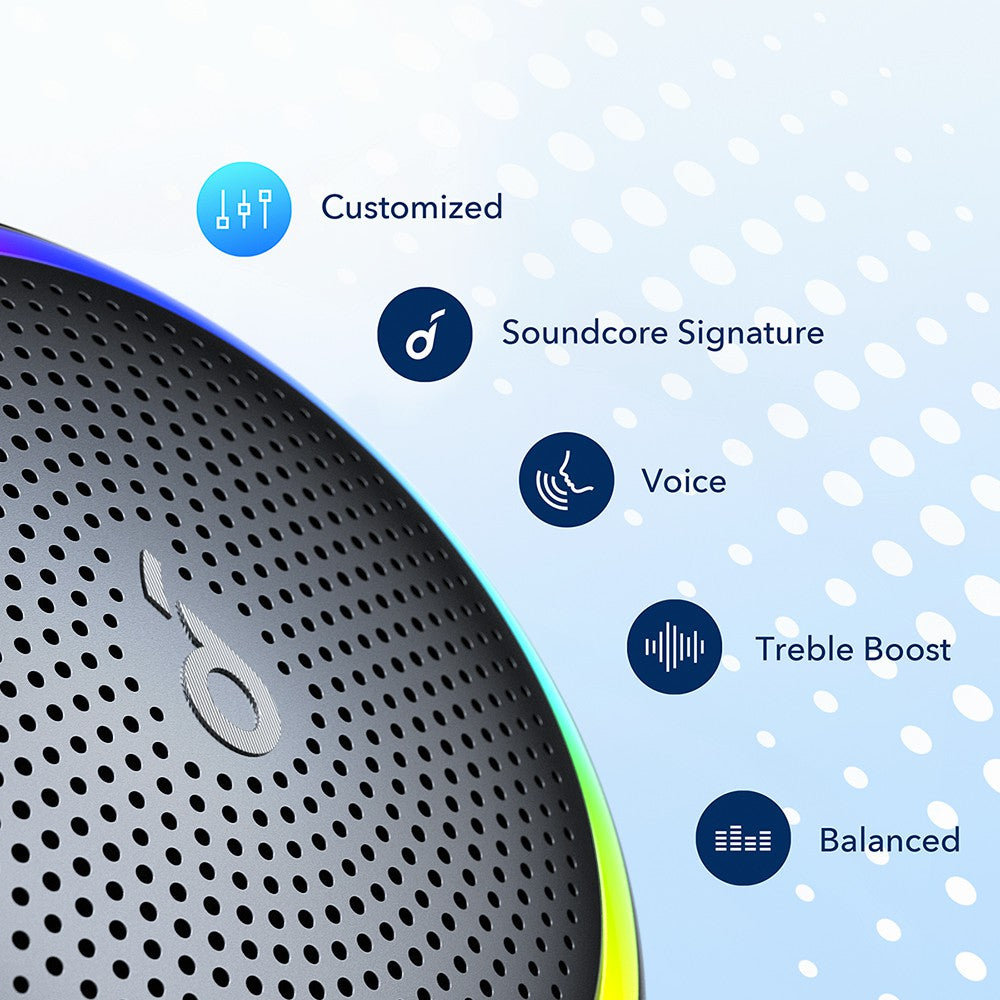 Soundcore Mini 3 Pro
Size-Defying Sound and Bass: Mini 3 Pro is in such a small package and still, somehow, contains our patented BassUP technology which will provide you with a bass experience you'll never have guessed could come out of such a small package.
Customizeable EQ with Soundcore App: Customize your audio experience by going into the Soundcore App and tuning to your liking
Beat-Driven Light Show: Rave Mini's LEDs pulse, phase, and flow in time to the beat to create a dazzling display
PartyCast Technology: Link over 100 Mini 3 Pro speakers (or any Soundcore PartyCast speakers) to party into the next dimension
IPX7 Waterproof: Fully-waterproof casing provides an impenetrable barrier against liquids
15-Hour Playtime: Mini 3 Pro has a built-in battery to let you effortlessly soundtrack wild weekends, cozy evenings, or long summer days outdoors
Sound Bass: This combined with exceptional sound clarity makes for a speaker that defies what we currently know can come out of a speaker this small.
SKU: A3127Z11
---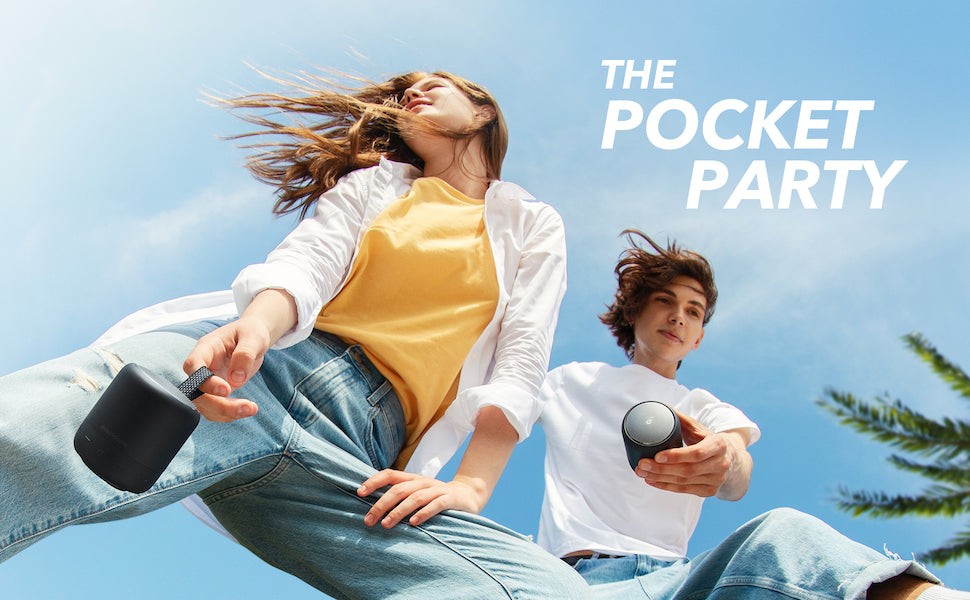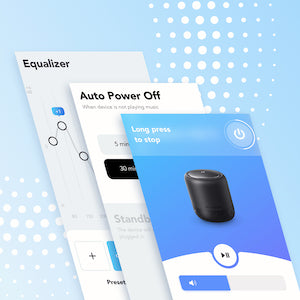 soundcore App
Take control of Mini 3 via your smartphone for effortless DJing. Adjust the volume, change the sound profile, and power the speaker on and off.
 USB-C Charging
Find the ideal sound settings for your ears by switching between 4 EQ modes.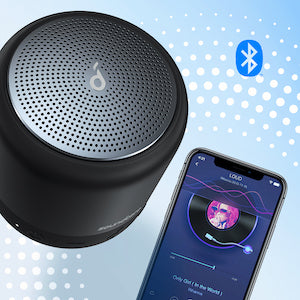 Personalize for Best Sound
Strong and stable wireless connectivity ensures a rock-solid link with your phone.
Documents & Drivers
Declaration of Conformity
A3040-EU UKCA DOC
How to pair 2 soundcore Mini 3 together?

Partycast - As Master Speaker
1.Turn on Mini 3 - Connect to Phone via Bluetooth.
2.Once connected, press the Bluetooth button for at least 3-5 seconds until it begins flashing white
3. Connect additional SoundCore speakers using the instructions found with the other speakers. The light will remain flashing white at all times.
Partycast - As Secondary Speaker
1. Turn on Mini 3.
2. Press Bluetooth button for at least 3-5 seconds until it begins Flashing White.
3. Double Press Bluetooth Button to begin pairing to the master speaker. Allow the speaker to connect, it can take 2-5 seconds.
4. Once bluetooth light is solid white, speaker is successfully connected.
How to reset the SoundCore mini 3 speaker?

Turn on the speaker, then hold Bluetooth and Vol+ for around 5-10seconds.
What is the input of Power for SoundCore mini 3 speaker?
Does this speaker has Auto-turn off function?

Yes, It will Auto-turn off after 10 minutes when it is disconnected from the host devices and after 30 minutes when it is no audio signal input.
What can I do if I cannot turn it on?

Try using a different cable and wall charger to full charge the speaker. If possible, then press the power button for 10 seconds, then press it several times to see if that helps. Ideally, the charger should be 5V/1A.
What can I do if the sound is cutting out and off1

1. Fully charge the speaker

2. Turn on and reset the speaker by holding Bluetooth and Vol+ for around 5-10seconds

3. Try the speaker with another device if possible; try another app or audio source

4. Ensure there are no physical objects hindering the Bluetooth connection from the speaker to the device they're connected to (such as a doorway or wall)
How do I know if the speaker if full charged?

Normally the charging time for this SoundCore mini 3 speaker should be around 3-4 hours with a 5V/1A wall charger.

Below are the correct charging indicators:

Power on: Light up white

Low Power: Red flash

Charging: Red

Fully charged: White
How long is the USB-C charging cable?

The SoundCore mini 3 speaker will come with a 60cm USB-C charging cable.

 
Can the mini 3 be linked to a trance go via partycast?
This product is rated 4.5 of 5.0 stars.
It has received 2 reviews.