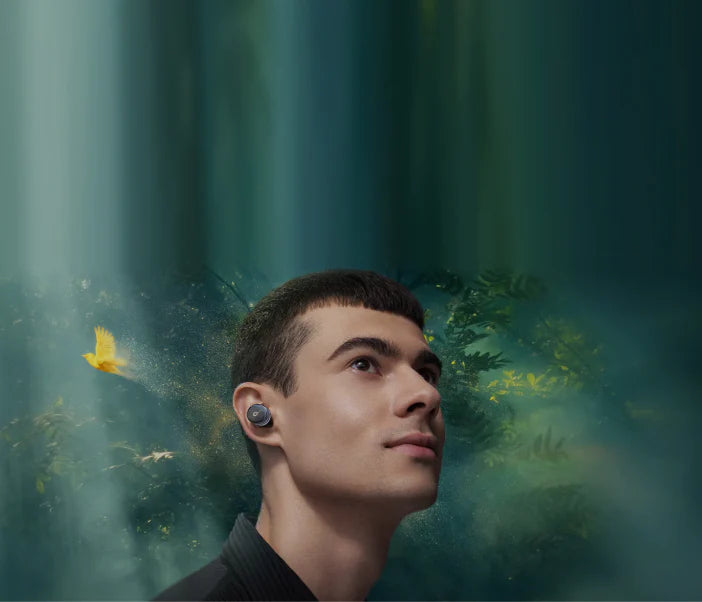 These earphones offer a completely wireless lifestyle and there's nothing that gets in the way of your movement.
True Wireless
True Wireless Earbuds
These earphones offer a completely wireless lifestyle and there's nothing that gets in the way of your movement.
Biggest Technology Packed in the Smallest Earbuds
True wireless earbuds, or TWS, are revolutionizing how people listen to music and make phone calls. soundcore harnesses the latest audio technology to make listening an immersive experience, while offering cable-free convenience to let you enjoy music everywhere.

Active noise cancellation, or ANC technology, protects your hearing in a loud environment without having to pump up the volume to hear your music. Industry-leading battery technology offers unimaginably long playtime, and fast charging technology further boosts total playtime. Our true wireless earbuds are also equipped with a microphone system with noise reduction technology to pick up your voice from various angles and make your phone calls crystal-clear even in windy conditions.
FAQ About soundcore's True Wireless Earbuds
How Do I Choose the Best True Wireless Earbuds?

Wireless earbuds come in a variety of styles along with different features, so it's good to know what your actual needs are before choosing a pair of earbuds that fits you. If you enjoy listening to music all the time, you should prioritize sound quality and comfort. If you work out frequently, you need to choose earbuds with waterproof features to avoid damage from sweating. If you often commute, then active noise cancellation is a must to reduce ambient noise.
How to Choose the Best soundcore True Wireless Earbuds?

soundcore offers a wide range of true wireless earbuds that meets our customers' different needs. There are top-rated premium models with superb sound quality and amazing functionalities as well as earbuds that are simple and easy to use without compromising on quality and features. Learn more about soundcore's true wireless earbuds lineup on the feature comparison page!
Are soundcore Earbuds Compatible with iPhone and Android Phones?

Yes, soundcore earbuds are compatible with most modern smartphones, tablets, computers, and smart TVs as long as there is Bluetooth built into these devices. With the latest Bluetooth technology, our true wireless earbuds can achieve a fast and stable connection with iPhone and Android devices alike, giving you an interruption-free music listening experience and excellent for making calls.