For parties, outdoors, and your home
Speakers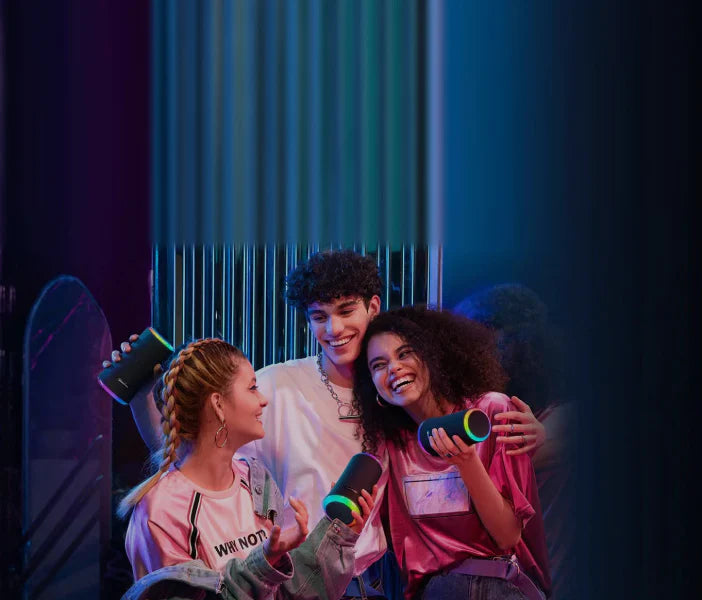 LED Speakers
soundcore LED speakers will light up any place you go with built-in flaring and vibrant lights that rhythm with the beat of your music.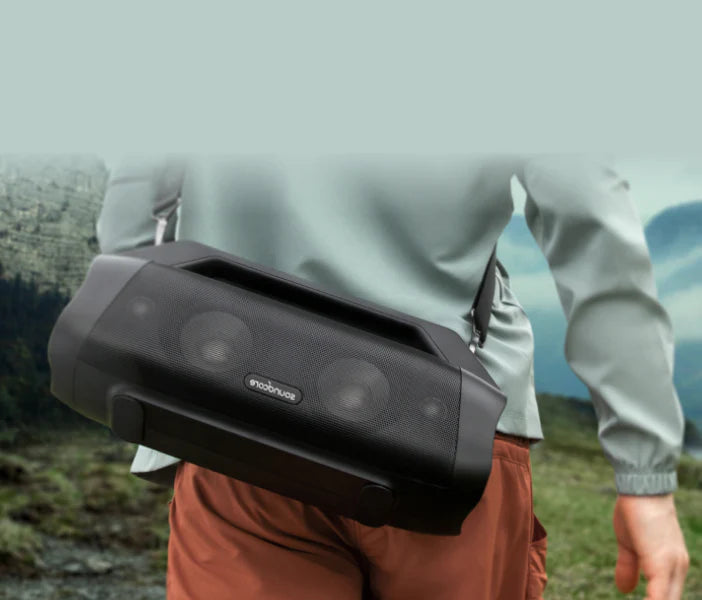 Outdoor Speakers
soundcore outdoor speakers are perfect companions for camping and party, boosting the vibe with huge sound while fearing no rain and water.
Enjoy 360° immersive sound everywhere with soundcore speakers
Bluetooth speakers are wireless and convenient compared to traditional speakers, with no cable connection needed to listen to music with stunning acoustic effects. soundcore speakers provide bass-driven audio and 360° surround sound to those who value sound quality, ensuring an impressive stereo speaker experience. The IPX7 Waterproof casing of soundcore keeps it safe when you enjoy your favorite music at a party or by the pool so that entertaining with thumping music everywhere is apparently a cinch.
The enhanced bass-up technology together with passive radiators applied by soundcore improves both treble and low frequencies, thus generatingbass-thumping stereo sound. soundcore not only extends the treble all the way up to 40 kHz but also eliminates noises and minimizes sound distortion by utilizing dual drivers in back-to-back formation, which guarantees clarity in addition. Hi-Res audio is also available for soundcore speakers, ensuring the music is lossless in the reproduction process through Bluetooth devices. soundcore speakers offer ultra-long battery life, allowing you to use the speakers for up to 24 hours continuously, which means there's no problem spending the whole day out with this extraordinary speaker.
FAQ about Bluetooth speaker
How Do I Choose the Best True Wireless Earbuds?

1. Regular speakers need a cable and port to connect your devices, while Bluetooth speakers are wireless using Bluetooth built in the speakers and your devices to get connected. This saves the trouble of carrying tangled cables all the time, such as the charging and connection cable.
2. Bluetooth speakers, with a relatively smaller and lighter design, you can use the portable speakers anywhere you prefer. And out of this reason, Bluetooth speakers usually adopt waterproof casing to protect themselves from being soaked or destroyed.
3. Once connected, the Bluetooth speaker will remember your devices and get paired up automatically next time, unlike the normal speakers in which you have to plug certain cables in every single time to play music.
How to Choose the Best soundcore True Wireless Earbuds?

Bluetooth speakers are generally rechargeable speakers that are able to connect with audio-playing devices, like smartphones, iPad, computers, etc.
Just like regular speakers, Bluetooth speakers capture digital audio information that your devices emit, convert them into analog audio signals, magnify the audio signals and convert them into sound. The only difference is that Bluetooth speakers accomplish the above procedure wirelessly via internal Bluetooth.
There's no internet requirement for Bluetooth connection, all your devices need is built-in Bluetooth. What has to be noted is that the Bluetooth connection range is limited due to the influence of some obstructions, varying from 10 to 30 meters.
Another thing is that audio quality is often impaired in the decompressing, decoding, and transmission process. That's why Bluetooth speakers that can reproduce Hi-Res lossless sound, for example, soundcore Bluetooth speakers, are currently well acclaimed.
Which Bluetooth speaker is the best?

If you are looking for a wireless speaker which is both portable and acoustically astonishing, soundcore Bluetooth speakers deserve your consideration.
soundcore launches multiple lightweight speakers, enabling you to carry them easily to anywhere you want. The IPX7 Waterproof feature is another extra in case you'd love to spread out music outdoor, like on the beach. soundcore perfectly combines bass-up technology, Hi-Res audio, twin drivers, and passive radiators to reproduce striking and clear surround sound via Bluetooth. Compared to the other speaker brands, soundcore comes with a more reasonable offer!